On interreligious dialogue
The Episcopal Church teaches us to "affirm the foundational Gospel proclamation that 'Jesus is Lord
(I Corinthians12:3), and therefore the Summary of God's Law: 'love the Lord your God with all your hearts, with all your souls, and with all your minds, and to love your neighbor as yourself' (Mark 12:29-31; Book of Common Prayer, Catechism, page 851). For this reason we reach out in love and genuine openness to know and to understand those of other religions."
Therefore, we commend to all our members of the Convocation of Episcopal Churches in Europe to engage in dialogues for building relationships, the sharing of information, religious education, and celebration with people of other religions as part of our life together in Christ.
One resource for thinking about and acting on the need to know our neighbor of another faith: The Theological Statement on Interreligious Relations This Episcopal Church statement was adopted by resolution of the 76th General Convention of the Episcopal Church (Anaheim, California)
RECENT NEWS
CHRISTIAN AND MUSLIM LEADERS CONDEMN 'AGRESSIVE TENDENCIES AND CRIMINAL ACTS' NOVEMBER 11, 2016
[EPISCOPAL NEWS SERVICE] Delegations of Sunni and Shia Muslims and Catholic and Anglican / Episcopal Christians have said that hatred, humiliation and persecution based on distorted understandings of the Bible or Qur'an "offends God." The statement is contained in the Call to Action, issued by the Fourth Session of the Christian – Muslim Summit, which met this week in the Iranian capital Tehran. In it, the religious leaders condemn "aggressive tendencies and criminal acts against nations, groups, and individuals."
_____________________________________________________________________________________________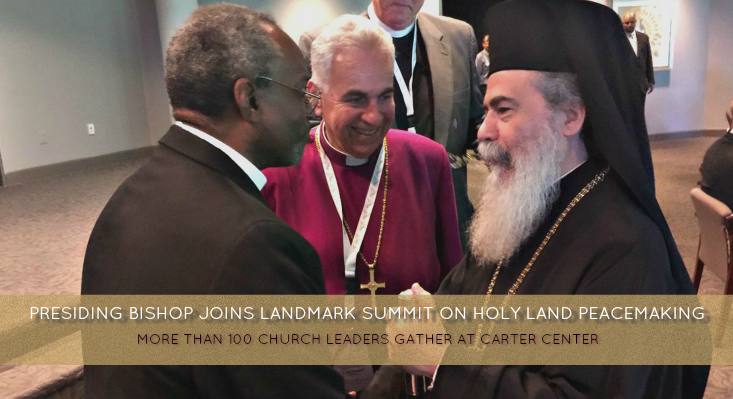 [Episcopal News Service] Archbishop Suheil Dawani of the Episcopal Diocese of Jerusalem (center) introduces Episcopal Church Presiding Bishop Michael Curry (left) to His Beatitude Theophilus III, Patriarch of Jerusalem and All Palestine (right), as the Rev. Robert Edmunds, the Episcopal Church's Middle East partnership officer, looks on.
______________________________________________________________________________________________
ARTICLES
CHRISTIAN AND MUSLIM LEADERS CONDEMN 'AGRESSIVE TENDENCIES AND CRIMINAL ACTS', ENS/ACNS NOVEMBER 2016
LES LEADERS CHRÉTIENS FONT PRESSION SUR LES CANDIDATS À LA PRÉSIDENCE À PROPOS DU CONFLIT ISRAÉLO-PALESTINIEN, ENS septembre 2016
REAPING THE BENEFITS OF ANGLICAN-CATHOLIC DIALOGUE, ACNS, MAY 2016
ANGLICAN-CATHOLIC COMMISSION TO HOLD 2016 MEETING IN CANADA, ENS, MAY 2016
THE ROLE OF CHURCHES IN INTERFAITH DIALOGUE, ACNS, MAY 2016
PRESIDING BISHOP JOINS LANDMARK LANDMARK SUMMIT ON HOLY LAND PEACEMAKING, ENS, MAY 2016
ARCHIVES
IN PARIS, AN INTERFAITH EVENING FOR PEACE AND DIALOGUE, ENS NOVEMBER 2015
HOLY LAND GROUPS PAVE PATH TO PEACE WITH COMMONALITY AND TRUST, ENS 2015
DESPITE EXTREMISM, CHRISTIANS & MUSLIMS LIVE TOGETHER RESPECTFULLY, ACNS 2015
EPISCOPAL CHURCH INITIATES CHRISTIAN-MUSLIM SUMMIT
THIRD SUMMIT OF CHRISTIAN AND MUSLIM LEADERS, (2014)
ARCHBISHOP OF CANTERBURY TO BE PARTON OF CHRISTIAN MUSLIM FORUM (ARCHIVES)
LANDMARK CHRISTIAN-MUSLIM PEACE SUMMIT OPENS IN BEIRUT (ARCHIVES)
WASHINGTON CHRISTIAN MUSLIM SUMMIT 2010 (ARCHIVES)
ANGLICAN-JEWISH DIALOGUE
ARCHBISHOP OF CANTERBURY: INTOLERABLE 'ANTI-SEMITISM DESERVES ZERO HOSPITALITY', MAY 2016
COMMUNIQUÉ OF THE ANGLICAN-JEWISH DIALOGUE COMMISSION